Explore our expertise
As passenger's volumes are increasing day by day on most of the airports around the world and so as the expectations from the passengers and airport management to provide smooth and efficient services to ensure hassle free travel.
With changing scenarios, technology is playing a key role in identifying areas for change and improvement at every level from passenger check-in to boarding the aircraft from passenger entering the airport terminal to departure of aircraft.
The improvements to provide passengers smooth and efficient services to ensure hassle free travel depend on the analysis of data collected within the terminal from passengers, flights and various other sources and processing the same using technologies like Big Data and taking underpin decisions.
We have expertise in developing solutions for airports from last 15 years, which are used by airlines as well as airports to manage various services offered to the passengers. The platforms can be native desktop, web, mobile, kiosk, CUSS or any other devices which aims to improve the overall efficiency of airport operations by optimizing the use of resources.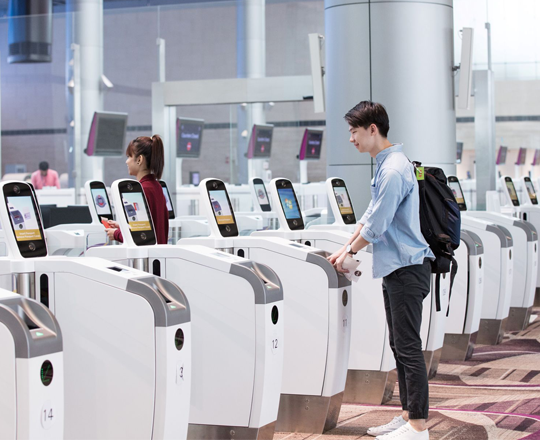 AIRPORT TECHNOLOGY EXPERTISE

Departure Control System (CUTE, Non-CUTE, LDCS, Back-up)

CUTE Platforms (SITA, ARINC, RESA)

Check-in (Airport / Web / Mobile / Kiosk / CUSS)

Interline Through Check-in & Through Baggage

Advanced Passenger Information System (APIS)

Disruption & Alerts Management

Weight & Balance (Load & Trim)


Airport Lounge Reservation



Choosing Right Airport Technology Partner - Why Us?

Domain Experience
Over 15 years of experience in developing solutions(s) for airport domain used by airport and airlines at airport terminals. The various solutions that has been developed, range from airline check-in systems to airport baggage handling systems...

Reduced Cost
Costs covering all aspects is considered and not only infrastructure, operational and resource cost. It significantly reduces the overall cost for the client and management of end to end processes. The cost is upfront discussed and mutually agreed…

Technology Expertise
We have been using the technology stacks for more than 20 years in various technology platforms including Microsoft, Java, Java Script frameworks, Data Science, Big Data and EDIFACT & AIRIMP formats used with IATA airport messaging standards…

Better Efficiency
We follow agile development methodology and daily communication to keep status, transparent and on track, so that all bottlenecks are discussed, and immediate required remedial actions are taken, which reduces any gaps & generate better efficiency…