The essential part of product testing is not only the functionality, performance and security testing but the domain scenarios, which play a key role while testing an airline, airport, travel or hospitality product during the live running scenarios the application must perform for which it is intended to achieve. We also offer independent software testing for your developed products apart from the regular testing as part of outsourcing software development or customised product development. We do automated as well as manual testing on platforms – Web & Mobile based on the agile methodology or as per your choice of product development.
Domain specific testing experts
Reduced Product Testing Cost
Project specific testing team
Automation & Manual Testing
Client-centric focused approach
Remote tracking & communication
Interactive project issues tracking
Agile Testing Services
Web and Mobile automation tools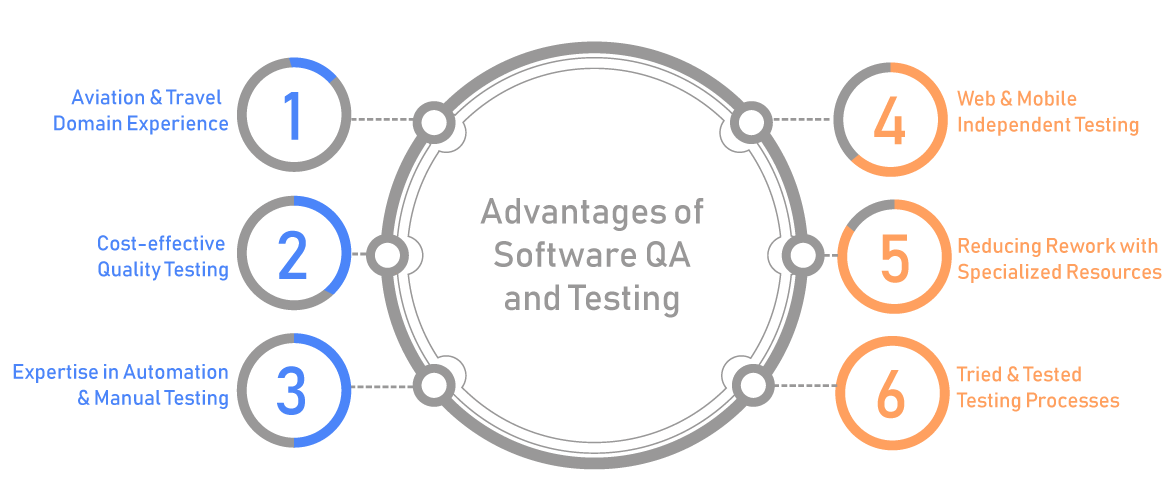 ADVANTAGES OF INDEPENDENT SOFTWARE PRODUCT TESTING
Aviation & Travel Domain Experience
The vast experience in airline, airport, travel and hospitality domain is the biggest advantage, which most of the other product testing companies won't be having. It not only helps in understanding the project but also helps in testing right scenarios specific to domain area...
Cost-effective Quality Testing
Early detection of the errors reduces the overall cost of the project significantly, which can only be achieved, when right & economical resources who have thorough domain and project knowledge - deep dive into each functionality to dig the bugs, which can be critical for the application...
Expertise in Automation & Manual Testing
Both manual and automated testing are crucial for smooth working of an application on time and in budget, so it's important to make them an integral part of your project's planning from day one. Automated testing helps for regression testing, whereas for UI testing, manual testing is best...
Web & Mobile Independent Testing
Mobile app testing has changed considerably in the last decade, due to enormous strides made in the design, performance and software ecosystems associated with smartphones & tablets over that time. Due to diverse web and mobile apps, it is extremely important to test from all perspectives...
Reducing Rework with Specialized Resources
One of the keys to eliminating rework in application development is defining the right requirements up front and initiate the testing process at the early stages of development. Rework directly impacts the performance & productivity and ultimately the profit margins of the organization...
Tried & Tested Testing Processes
One of the main reason for web application or mobile app failure turned out to be poor quality assurance processes during the software development. The purpose of executing stringent quality assurance test on software is to prevent mistakes that slip through may lead to large financial losses...
Choosing Right Product Testing Partner - Why Us?
Domain Experience
Over 15 years of experience in testing solutions for airline, airport, travel and hospitality domain. The various quality assured solutions that are tested in the various verticals, range from airline passenger reservation systems to airport check-in systems and online travel & corporate booking engines...
Reduced Cost
Considering the overall testing cost of the project when given to the right skilled partner, it reduces the cost significantly. It not only helps client to avoid investing for all the factors involved to setup the team and tools, but also gives the flexibility to pay, based on the engagement model agreed…
Automation Tools Expertise
We have been using various automation tools – Selenium, SoapUI, Appium and others for Web, Web Services, Type A & B Messages, Mobile and Tablet platforms. We do various types of testing with tools and manually - Domain, Functional, Usability, Regression, Integration, Compatibility & Performance testing...
Better Efficiency
We follow agile testing methodology and daily status communication to keep the testing status, transparent and on track, so that all issues / bugs that are communicated and immediate required remedial actions are taken, which reduces any gaps that can be produced otherwise and generate better efficiency…
Productive Results
By considering and keeping the interactive approach on regular basis with status tracking tools to measure the performance of the quality testing done and the issues generated and resolved side by side, helps in laying down strong foundation and building productive results for delivering successful project…
Ready to start testing on your project? - Just drop us a line about your software testing project at contact@steadybiz.in through mail or Skype and we'll share our insights to help you make the final & better choice!